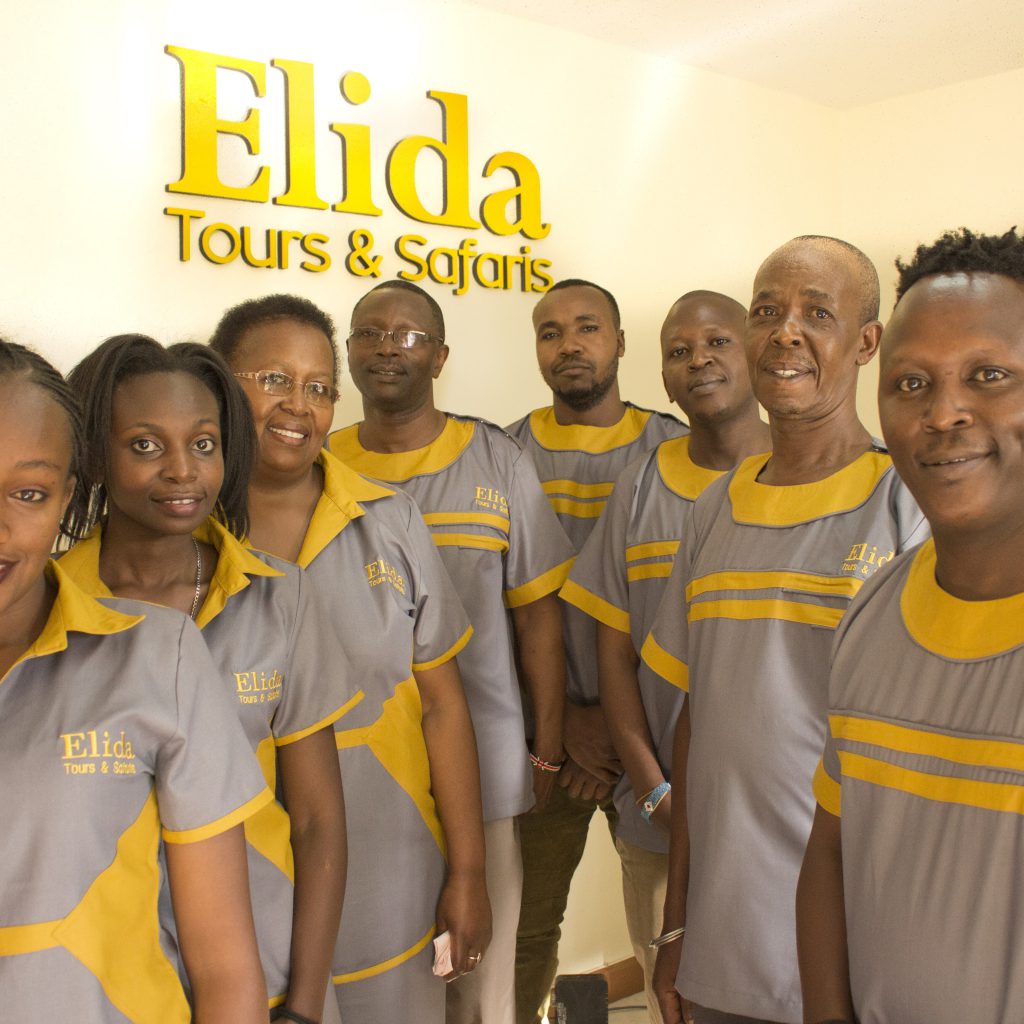 Elida Tours & Safaris is an owner-managed Tour Company based in Nairobi, Kenya. Our office is located in Jameson Court off Ngong Road. We specialize in offering tours and related services around East Africa (Kenya, Tanzania, Zanzibar & Uganda). 

Elida Tours & Safaris Ltd has been in operation since 2002 with our key objectives being delivery of premium value to everyday travelers. Whether a small business, a medium sized company, corporate or a multinational enterprise. We have the tools and solutions that will help you be successful in achieving your goals.

Elida Tours is managed by two Directors David & Elizabeth Njau. Together they bring in vast experience – Davidhas over 20 years' experience in organizing safaris in Kenya, Tanzania, Uganda, Zanzibar & Rwanda. He has also traveled widely in USA, Europe & Africa gain­ing the necessary expertise to steer Elida towards achieving world-class status, offering outstanding and impeccable services. 
We plan Tours … that let you see the beauty of Kenya. Where you can look forward to a journey through majestic, unspoiled landscapes to fabulous game reserves where the continents incomparable wildlife is protect in its natural habitat. 

We plan Safaris … that allow you to get close to the animals. You will find through our website and online brochure, tours that offer good value to enable you see the best of Kenya, Tanzania, Zanzibar and Uganda. The arrangements are flexible and we can tailor make a safari of your choice and preference at your request.

Our Vision to excel in the planning and execution of tours, safaris & holidays in East Africa by providing exceptional service.

Our Mission is to provide tours and safaris with quality and purpose.

We achieve our mission and vision by providing courteous, professional services while subscribing to the highest standards of morals and ethics in the tourism industry. The end result of this is that we give our clients comfort and opportunity to enjoy their entire safari.
Comprehensive Range of Safari Itineraries
Backed by many years of experience, our staff are conversant in arranging safaris, and know how to plan the best and most dramatic itineraries. Please find below some of our services:
Packaged Inbound/Outbound Tours & Safaris
Tailor Made Inbound/Outbound Tours & Safaris
Hotel and lodge bookings in Kenya, Tanzania, Uganda
Budget and luxury safaris & holidays
Mt. Climbing (Mt. Kenya and Kilimanjaro)
Sun and Sand – Beach Holiday
Family Holidays
Airport Transfers
Events & Conference Organization
Competitive Prices
Elida Tours & Safaris believes in providing value for money invested thus prices are very competitive. 

High Standards of Accommodation
Only the finest hotels, lodges and camps in the cities and out in the bush are selected. Each thoughtfully chosen to reflect not only our own high standards, but also the spirit of the itinerary in which it is used.

Quality Transportation whilst on safari with guaranteed window seats. 
On safari, window seat is guaranteed for each client. Each minivan or 4x 4 cruisers has a mobile HF radio, cool box, reference books, and binoculars, First-Aid Kit. 

Professional Guides 
The single, most important aspect of traveling through any country is the quality of the guides. Their knowledge, experience and companionship can make any trip truly magical and incredibly enriching. 

Every tour has a driver-guide who meets the clients at the airport, and accompanies them for the rest of their tour arrangements. Each driver-guide has been taught not only safe driving, but also the Geography, History and Tribal laws in Kenya. 
Continuous Quality Control: Elida Tours & Safaris Ltd is devoted to quality control, and ensures that all services are kept at the highest possible standards. These include drivers, vehicles, representatives and accommodation.

Supporting Conservation Efforts: Our organization is concerned about the continuing pressures eroding the fragile wildlife ecosystems in Africa, and in this regard Elida Tours & Safaris Ltd fully supports goals and efforts of recognized conservations institutions.

Satisfied Clients: Our business has grown progressively mainly through word of mouth referrals. This tells us that we are doing something right. Come and experience our services.

KATO Registration: Elida Tours & Safaris is a registered under the Kenya Association of Tour Operators (KATO) under registration number FE/476.

Offices: Our offices are located along Ngong Road, Jameson Court Building, Suit No. D9.
Feel Free To Interact With Our Video
Learn more about our company, our staff, services and our offices.